Kian Capital Transaction Announcement – TPS, LLC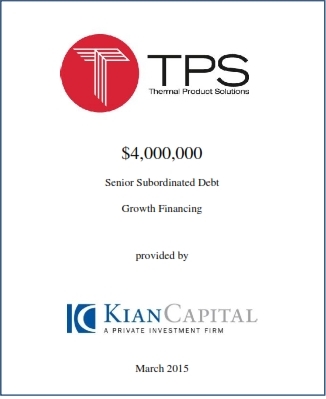 Kian Capital is pleased to announce that, in conjunction with lead investor FNB Capital, it has invested $4.0 million of senior subordinated debt in TPS, LLC ("TPS" or the "Company") to support the Company's growth initiatives. TPS, based in White Deer, Pennsylvania, is a leading designer and manufacturer of environmental test chambers, industrial ovens and industrial furnaces under the Tenney, Blue M, Gruenberg and Lindberg/MPH brands. The Company's products are used in a broad range of applications, including component testing, quality assurance, curing and sterilization. TPS is a portfolio company of Resilience Capital Partners.

Rick Cravey, Partner at Kian Capital, said "The Company's ability to formulate and manufacture both standard and custom products positions it as a leader in the engineered thermal solutions industry. We are excited to support Resilience and the Company's talented management team to capitalize on this next chapter of growth opportunities."
More information about TPS can be found by visiting www.thermalproductsolutions.com.
About Kian Capital
Kian Capital, with offices in Atlanta, GA and Charlotte, NC, is a licensed Small Business Investment Company ("SBIC") with $150 million of capital under management. The firm makes debt and equity investments in leading lower middle-market companies across a broad range of industries. We typically provide between $5 million and $15 million of capital in support of buyouts, recapitalizations and growth financings. We seek to partner with business owners, independent sponsors and private equity firms that are committed to increasing the enterprise value of their businesses.