Kian Capital Announces Receipt of SBIC License
Kian Capital Announces Receipt of SBIC License and is Actively Seeking Investment Opportunities
Kian Capital is pleased to announce that on December 20, 2013 its inaugural fund, Kian Mezzanine Partners I, L.P. (the "Fund"), received its Small Business Investment Company ("SBIC") license from the U.S. Small Business Administration.
Kian Capital is seeking mezzanine and equity co-investment opportunities of up to $15 million in leading lower middle-market companies.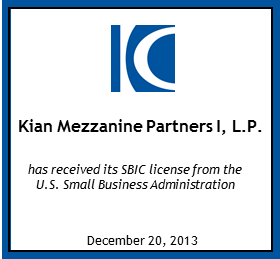 Collectively, the Kian Capital team has over 74 years of experience working with lower middle-market companies, having managed investments at every level of the capital structure, including nearly $500 million of mezzanine and equity investments.

Transaction Types
Growth Financings
Recapitalizations
Shareholder liquidity
Generational transitions
Management buyouts
Corporate divestitures
Investment Structure
$3-$15 million investment
Mezzanine and equity co-investments
No amortization prior to maturity
5 – 7 year maturity
Preferred Industries
Business Services
Distribution and logistics
Niche manufacturing
Healthcare services
Company Attributes
EBITDA of $2 - $15 million
Proven management team
Predictable cash flow
Defensible market position
Defined catalyst for growth
For more information, please contact Kevin McCarthy or Matt Levenson or visit our web site at www.kiancapital.com.